STEPS 3-9 for Mac OS
STEP 3: When the connection between the camera lens and the computer is completed, the Tokina DFU folder will be displayed on the desktop.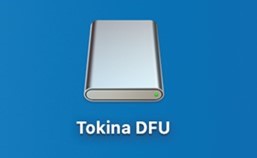 STEP 4: Open the Tokina DFU folder.
STEP 5: Unzip the downloaded file new firmware update file (.DAT) with the ZIP file software.
STEP 6: Copy (drag and drop) the update file (.DAT) to the opened USB folder of the lens and the update starts to execute automatically.
STEP 7: Once the writing is completed, the USB folder closes, and after a while it opens automatically. With this the firmware update procedure is complete.
STEP 8: "Eject", then disconnect the USB cable.
* After ejecting, the USB folder will be displayed with some delay, but there is no problem with disconnecting the USB cable. A warning window pop-up may also appear after that, but the hardware has been safely removed.
STEP 9: After removing the lens, attach it to the camera body and check that the lens version has changed. You can check it by selecting [Setup] → [Version Display] from the [MENU] of the camera.