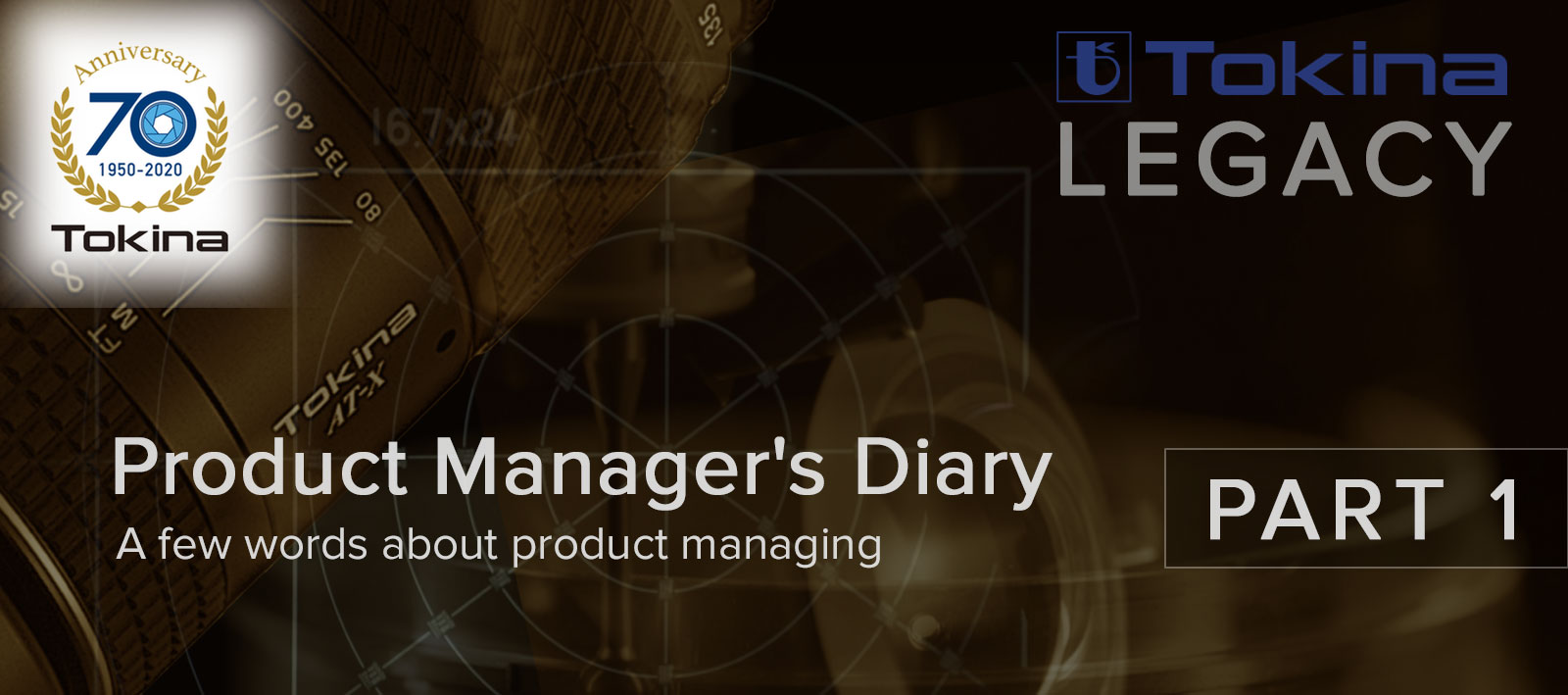 PART 1: A few words about product managing
Product managing. I think many among the readers may be involved in product planning, even though they are in different industries. I am also sure there are many new employees who yearn for the R&D department and the advertising department. Did you know that you cannot do proper product managing unless you can keep good relations with the members of sales and R&D departments and that this is a surprisingly plain and uncouth job, which requires behind-the-scenes negotiations everywhere?
As a product manager, how can one make good lenses and keep photographers happy? Of course, market research, competitor trends, prices, components technology, patent research, exterior design, company strategy, etc. are the necessary elements in the marketing. For all the products, we plan and develop, following our philosophy, and it is funny and enjoyable to plan and commercialize one or two models.
However, when it comes to over 10 models, it can be difficult at times, because not all the lenses launched always happen to sell well. As a product manager, I believe that a certain model will definitely be a best seller, so I do my job, but the feedback of the market may be not so good…and, honestly, when this happens, I cannot help but feeling a bit down for it.
"Why did you make such a lens?" will be inevitably asked from my boss and colleagues from the sales department. Or, when sometimes it sells unexpectedly well, I am happy as I could overturn any opposition, but I am also worried that sales may eventually stop. In addition, the needs from the customers in different countries may be significantly different. One lens may sell, and yet, would it be ok to put it in the global production plan? Product managing also requires paying attention to exchange rate fluctuations, overseas economic trends and manufacturing yield. Obviously, if sales stop, inventory will increase. And of course Lens production cannot stop suddenly, as in lens production we make a forecast demand for glass materials, mechanical parts, electrical equipment, assembly … it is a business that requires a forecasting of at least 6 month. If the forecast goes wrong, the stock will pile up, and the cash flow will deteriorate. It always sticks in your head. Remember the old saying of investors quotes "What is not yet may be already; what is already may not yet to come".
The market of interchangeable lenses for DSLR cameras has changed drastically over the past decade, from the old film cameras to the modern digital SLRs. Furthermore, recently there has been the rise of mirrorless cameras with interchangeable lenses, which have completely different standards, so the amount of worries a product manager must face has increased (lol).
Anyway, I hope you will enjoy reading my both the successful and failure stories. I am not used to this so I hope you will forgive any inadequacy of my narrative style. There may be such issues like writing staff that manufacturer are not supposed to write about, or praising some lens of other brands. But I would be happy if you enjoyed this column any way.
Coming next in PART 2 we will learn about the "α shock" from Minolta and how Tokina came up to its first AF supported AT-X 270 AF (28-70mm f/2.8) model in high-end AT-X series released in 1988 year. To be continued..