We proudly announce that following the Tokina opera 16-28mm F2.8 FF in May 2019 and Tokina atx-i 11-16mm F2.8 CF in April 2020, Tokina atx-m 56mm F1.4 prime lens received TIPA 2022 World Award as the BEST APS-C PRIME LENS.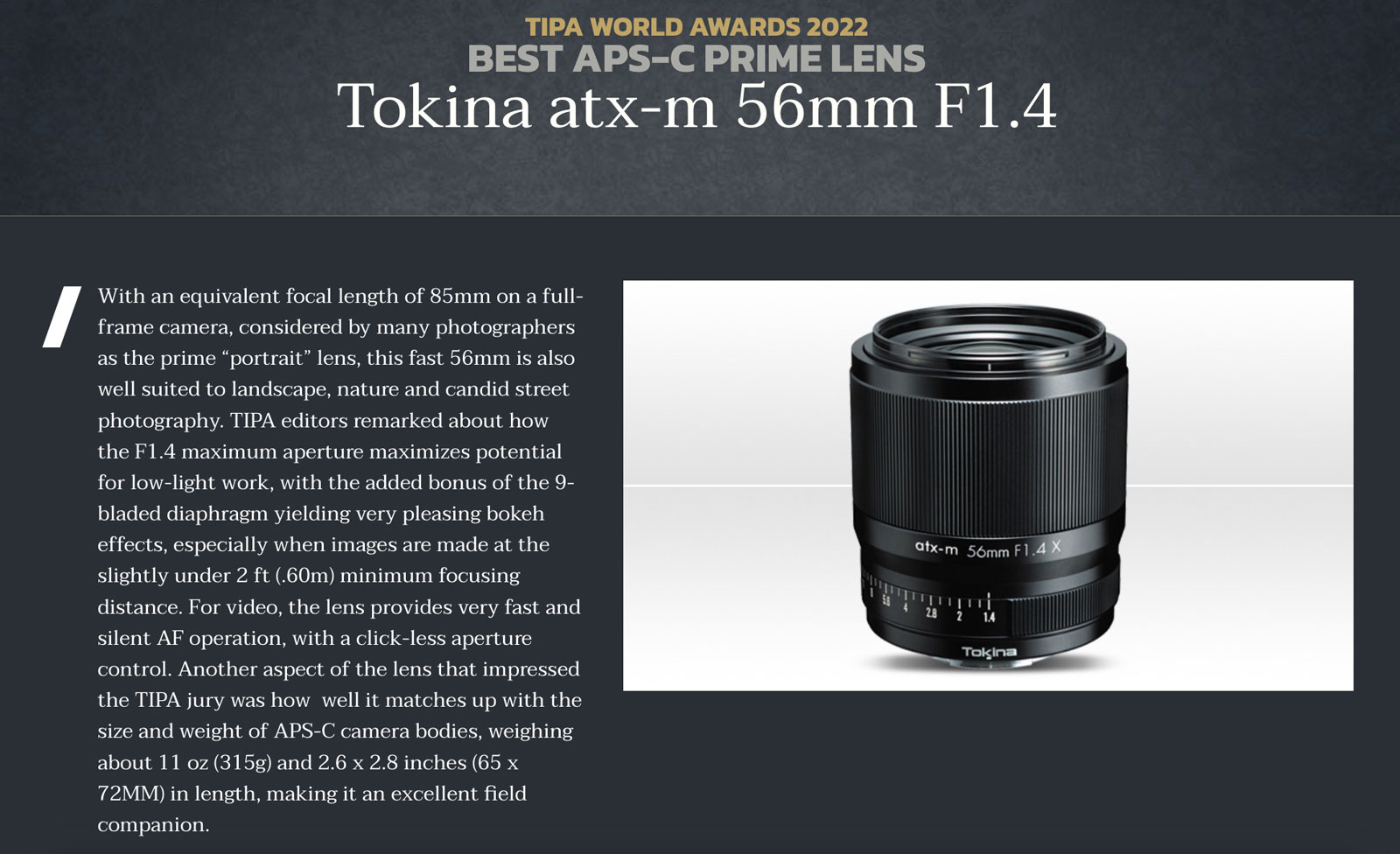 With an equivalent focal length of 85mm on a full-frame camera, considered by many photographers as the prime "portrait" lens, this fast 56mm is also well suited to landscape, nature and candid street photography. TIPA editors remarked about how the f/1.4 maximum aperture maximizes potential for low-light work, with the added bonus of the 9-bladed diaphragm yielding very pleasing bokeh effects, especially when images are made at the slightly under 2 ft (.60m) minimum focusing distance. For video, the lens provides very fast and silent AF operation, with a click-less aperture control. Another aspect of the lens that impressed the TIPA jury was how well it matches up with the size and weight of APS-C camera bodies, weighing about 11 oz (315g) and 2.6 x 2.8 inches (65 x 72MM) in length, making it an excellent field companion.
About TIPA World Awards
TIPA WORLD AWARDS both recognize and honor industry companies and their products and serve as an important benchmark and guide for consumers in making their purchasing decisions.
Source: https://www.tipa.com/tipa-world-awards-2022/
In May 2019 opera 16-28mm F2.8 FF also received TIPA WORLD AWARD as the BEST DSLR WIDE ANGLE ZOOM LENS.
---
ABOUT TOKINA
As a part of Kenko Tokina Co., Ltd., Tokina has an optical manufacturing tradition that dates back to 1950s. Tokina specializes in high-quality lenses for today's digital single lens reflex (DSLR) and mirrorless cameras.
Kenko Tokina Co., Ltd. | Tokina Dept. International Division