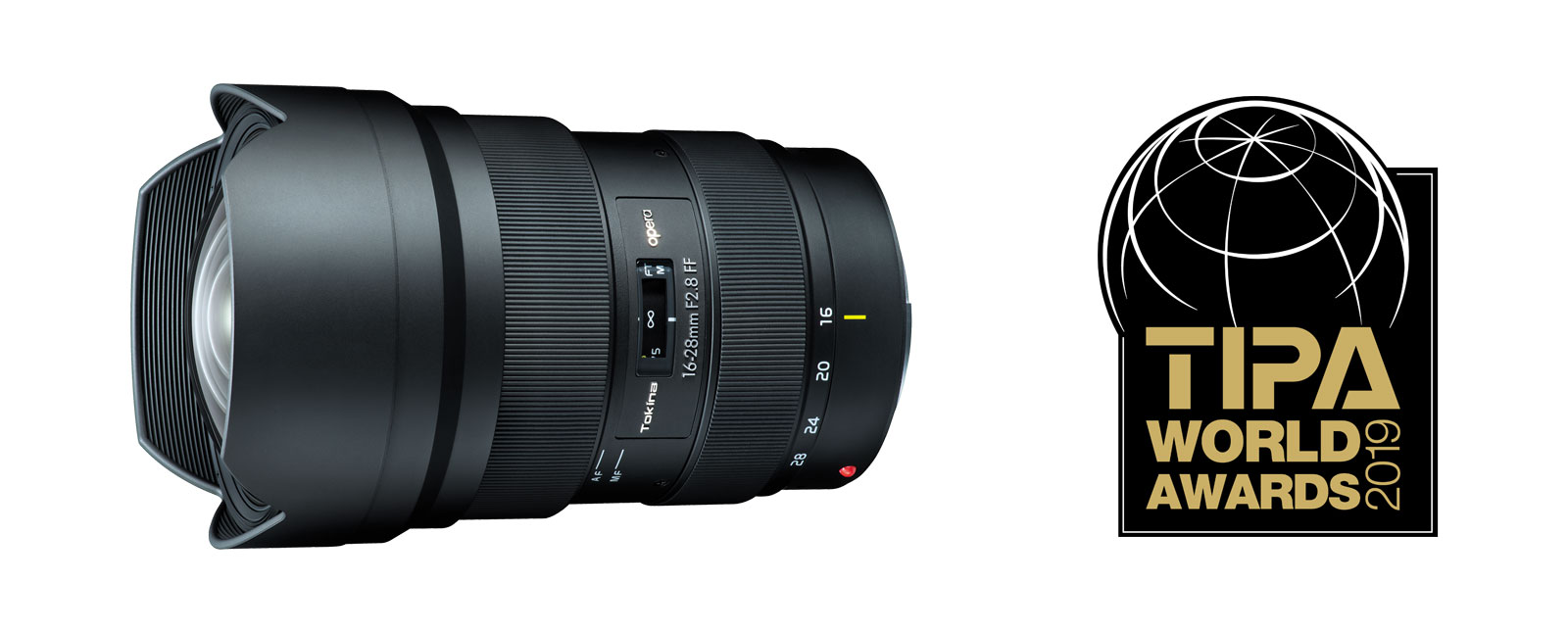 Kenko Tokina Co., Ltd. is pleased to announce that Tokina opera 16-28mm F2.8 FF has received TIPA World Awards 2019.
Name of award: BEST DSLR WIDE ANGLE ZOOM LENS.
A Wide Zoom for "artful" images
This versatile, constant aperture lens incorporates a newly designed Silent Drive module for faster, smoother and quieter AF. It is constructed with 15 elements, including 3 aspherical and 3 glass low-dispersion elements, in 13 groups, delivering significantly reduced chromatic and spherical aberrations. A large front element means minimal vignetting and low distortion, while a One-Touch Focus Clutch Mechanism makes switching from AF to manual focus easy: all the user need do is to snap the focus ring back toward the camera to engage manual. Minimum focusing distance is 0.28 meters, allowing for highly creative depth of field either wide open or closed down to its minimum f/22 aperture.
About opera series
Tokina opera represents a series of next generation, premium full-frame lenses for high-end DSLR cameras. The new series perfectly matches recent high-resolution full-frame DSLR cameras that demand the highest quality optical designs. Built on the award winning heritage of Tokina's AT-X line, the new opera series will offer an ever-expanding, premium line of full-frame lenses that meet the growing demands of high-performance DSLR cameras.

In modern society the word "opera" is commonly used to indicate stage art works that combine drama, music and dance. In Italian, it means work or work of art. As an omitted art genre definition, opera comes from "opera musicale", which means a piece of music work. In Latin, opera comes from "opus" that is still used in contemporary language meaning "great literary, artistic or intellectual work" (e.g. "magnum opus", "opera magna"). We chose the name opera for our new premium full-frame DSLR lens series with the idea that it will help the photographer in creating real "works of art".
TIPA official WEB site: https://www.tipa.com/en-en/awards/tokina-opera-16-28mm-f-2-8-ff
---
ABOUT TOKINA
As a part of Kenko Tokina Co., Ltd., Tokina has an optical manufacturing tradition that dates back to 1950s. Tokina specializes in high-quality lenses for today's digital single lens reflex (DSLR) and mirrorless cameras.
Kenko Tokina Co., Ltd. | Tokina Dept. International Division