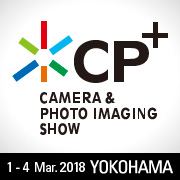 Kenko Tokina Group (Tokyo, Japan) announces participation in the CP+ CAMERA & PHOTO IMAGING SHOW 2018, that will be held in Yokohama, Japan from 1-4 March, 2018, Pacifico Yokohama exhibition center Exhibition Hall, booth # G-57 (general zone).
CP+ is the biggest photo and imaging show in Asia, a comprehensive exhibition that pursues to push for the evolution of camera and photo imaging in all aspects (technology, culture and industry). Every year, it works with the international city of Yokohama to contribute to the development of photo imaging culture.
Introduction
We look forward to introducing the diversified collection of Kenko Tokina photo products. On stage we will host photo professionals conducting seminars, teaching shooting techniques and doing product presentations.
Interchangeable lens touch & try corner
There will also be a display area where people can try out our various interchangeable lenses such as Tokina lenses, Lensbaby, Samyang, etc.
Stage seminar
We invite professional photographers, active in the front lines, to conduct seminars, teach shooting courses and product introductions. Do not miss this opportunity!
English page: http://www.cpplus.jp/en
How to access: http://www.cpplus.jp/en/overview/access.html
---
ABOUT TOKINA
As a part of Kenko Tokina Co., Ltd., Tokina has an optical manufacturing tradition that dates back to 1950s. Tokina specializes in high-quality lenses for today's digital single lens reflex (DSLR) and mirrorless cameras.
Kenko Tokina Co., Ltd. | Tokina Dept. International Division